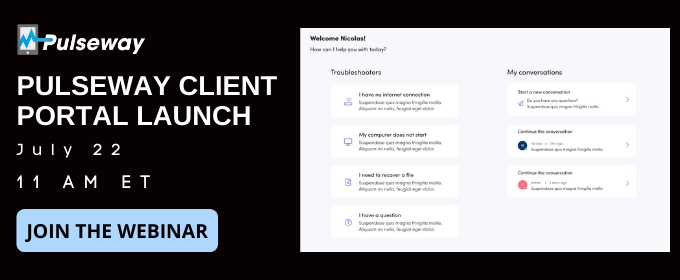 It is a fact that most user support tickets are for relatively simple issues such as printers not working, forgotten passwords, or requests for access.
If your techs are spending time responding to these repetitive simple issues, they have less time to spend on proactive tasks that deliver real long-term value.
Pulseway Client Portal can help. It is integrated into the RMM and has been designed to empower end-users to resolve their own issues by having access to self-service, interactive automated workflows that you define with standard resolution paths. This frees up your team's time and means end-users no longer have to wait for their turn in the support queue.
Join us on July 22nd to learn:
How easy it is to build multi-path, interactive troubleshooters

How easy it is for the end-users to effectively solve their own problems

How end-user satisfaction increases while your workload decrease
Join here: https://event.on24.com/wcc/r/3301801/DAF21486052A3B14A49A738982E8F64F?partnerref=forum